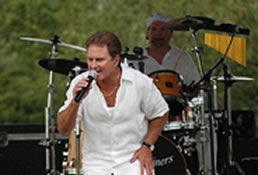 Earl "The Pearl" Dawkins
The Entertainers were founded In 1980 and scored their first regional smash hit with "Living For The Summer". This song helped propel the group to the forefront of beach music which led to their playing the finest clubs along the grand strand of Myrtle Beach and corporate conventions, weddings and festivals from Washington, DC to Naples, Florida. While staying true to their r&b and beach music roots, the group also satisfies the most diverse audiences by playing selections from the latest hip hop to classic rock and roll. The group's years of performing experience and recording prowess has culminated in the release of their latest album, entitled "The Inside Story". This record which contains new tunes including "Thank Goodness She Cheated" and some classic beach and soul hits like "Me & Mrs Jones", "Stubborn Kind of Fellow" and "Never Found A Girl" will surely lead you to the dance floor with a smile on your face.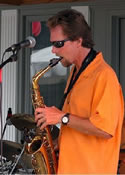 Beaver Robinette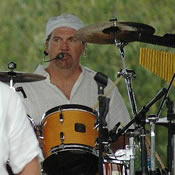 Rick "Clint" Sabiston
Ricky "Clint" Sabiston started playing drums at age 5 and within 4 years, he was in his first band playing birthday parties and talent contests. Through the years, he has had the pleasure of playing and performing with many great musicians and members of such artists as The Platters, Marshall Tucker and Reba McEntire. "Clint" sings harmony vocals and also plays piano and guitar, but most of all he enjoys filling the drummer's position and being a part of the steady driving force behind The Entertainers.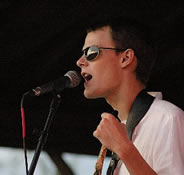 Zach "The Sax Man" Wheeler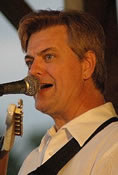 Gary "Alex" Alexander
Gary (Alex) started his career as a lead guitarist and vocalist at age fifteen. By age sixteen he had already opened for Tommy James and the Shondells. While touring with national recording artist Kim Boyce, he opened for BeBe and CeCe Winans, The Imperials, White Heart, Mylon LeFever and Sandi Patty, the list goes on and on. This astonishing singer, songwriter and guitarist has too many credits to mention here. Come see for yourself, why The Entertainers are so excited to have Alex in their line up today.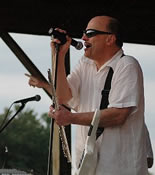 Michael "Quick Draw" McGraw
Michael is the most versatile musician the band has ever had. In addition to being the band's keyboardist, Michael plays drums, flute, sings back-up and lead vocals. He also writes and arranges tunes for the band's extensive repertoire. Much of the group's choreography is directed by Michael. He is one of the most easy-going, wittiest and pleasant people you could ever wish to meet. Ask him about his studio and some of the recording sessions he's done in Salem, Virginia.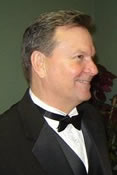 Mike Brown
Mike's Back! After leaving The Entertainers to become a commercial pilot and then onto flying rock stars and sports teams all over the world, Mike Brown has returned to the band. One night during a tour, Bruce Springsteen invited his pilot (Mike) on stage to sit in with the E Street Band. Needless to say, the experience was thrilling to Mike and renewed his desire to play music again. Mike's seasoned stage presence along with his rich tone and high range on trumpet and soulful voice on lead and back up vocals are an exciting addition to the group. Look up...you may see us flying in on the next gig!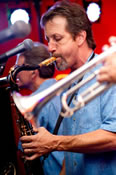 Bob Chambers
Bob is a native of Greensboro, NC and began his career performing as a bluesman for many of the local & regional acts of the times, while also making his mark with several of the Beach & Top 40 bands around the area. As time went on, Bob shared the stage with various acts including; Kerri Michaels, Billy Bazemore, Clifford Curry, and Archie Bell, just to name a few. Bob is now delighted to once again have the opportunity to bring his smooth vocals, clean sax riffs, and electrifying dance moves to the stage, and to be called an Entertainer.